UD Coast Day
Visit the CGAAUW table at Coast Day Sunday, October 1, 2017, 11am – 5pm in Lewes
In the interest of increasing AAUW's visibility in the community, we are sponsoring an outdoor booth at University of Delaware's Coast Day on Saturday October 6th . There will be a hands-on science activity as well as a book raffle. Cristi Gillean and Judy Britz will be staffing. Additional volunteers are needed throughout the day. Please contact Judy Britz if you can volunteer a few hours of your time. The event hasn't been held for 2 years – It's free and lots of fun!
Sussex County Science Fair
Coastal Georgetown AAUW Presented 6 Awards at the Sussex County Science Fair 2018
AAUW is a member organization that changes the climate for women and girls through philanthropy, advocacy, research, and education. Promoting young women in STEM careers is a focus of the national and local organization. The Coastal Georgetown Branch of AAUW is a longstanding supporter of the Sussex County Science Fair. Members of Coastal Georgetown AAUW judged and presented 6 awards to girls at the Sussex County Science Fair held on March 5th at Delaware Technical College, Georgetown Campus. Awards totaling $500 are given annually. This year the following young women received awards for their science projects.: 12th grade Megha Patel $150, 11th grade Yuxin He $150; 8th grade Molly Dopler and Zoe Peters $50 each; 7th grade Adelle Leebel and Kalei Chowdhry $50 each. Congratulations to all!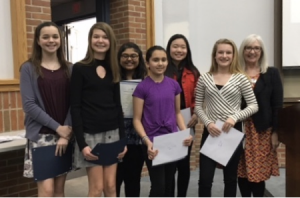 Molly Dopler, Adelle Leebel, Megha Patel, Kalei Chowdhry, Yuxin He, Zoe Peters, Cristi Gillean CGAUW President